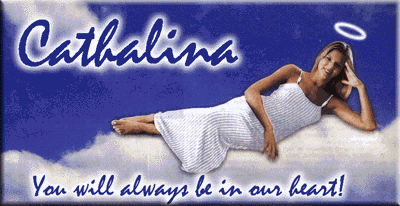 ---
Best Messages Writen in Cathalina's Guestbook.
---
MAMY DE CATHALINA
TE AMO MAMI
From: LEBANON
Comments: COMO UN ANGEL LLEGASTE A MI COMO UN ANGEL TE PERDI QUE TRISTE ES VIVIR SIN
TI TE AMO. MAMI
caroline prince sister of cathaline
to my dear sis CATHALINA.
From: Lebanon
Comments: white is your soul black are our hearts pray is our common we all miss you CATHALINA ,WE ALL
PRAY FOR YOU I would llike to thank all those who signed CATHALINA'S guest book. I'm sure SHE's praying
for all who love her SINCERELY.
Elie Sarkis
Cathalina Forever
From: Lebanon
Comments: We will never be in touch, but that doesn't mean you won't be on my mind. Your charming smile will
always be a beautiful souvenir. You deserve to know that you always have and always will hold a very special place in
my heart. I think Heaven has won a very special and unique Angel, as you have always been compared to ever since
you were born. Your future Brother-in-Law, Elie Sarkis
Kamal Ghattas
Cathalina Forever
From: Lebanon
Comments: Catalina,my little cousin, I will always love you and you will always be in my heart and in my mind
through my life time. I will never forget the moments we spent together laughing and sharing together our deepest
secrets. I will always miss the times we've spent dancing together and listening to your favorite song"FREE". At least
now i can assure you that you are really FREE. I ask God that you will find someone to take care of you and make
you happy up there as much as i did down here. Caty until we meet again one fine day!!!!!
George Chawi
It is hard without you
From: Lebanon
Comments: Cathalina, you should always know that u always had a place in my heart and always will... You left us and forgot something really valuable on this earth; they are Family, Relatives, Friends, and especially ME. I will never forget that smile of yours and they way you always kept my hope high and taught me how to enjoy life. You are daily on my mind, and the only time I feel close to you is when I see your family and when I pray for you... You had future plans and I wanted to be a part of them but couldn't due to a great power we cant control. But always remember that I am praying for you and remembering you throught the good times and bad ones. You are always in my heart, and now in God's heart and mercy... I WILL NEVER FORGET YOU... G.C.
Ghassan Chahine Cathalina's Page Webmaster
Cathalina Forever
From: Lebanon
Comments: Cathalina, Your Smile Captured my soul like no one else's... You will always be in my heart, you are dear at my heart due to your Beauty, Charme, Degnity and compassion.....That's why I created this nice website in memory of you!!! Cathalina I have never met you But I liked you so much...I met all your family they are great great...I felt like I always know you... It is true that Heaven Couldn t Wait...I will always pray for you...You are always in my mind, I always think of you... May God rest your soul in Peace...See u in Heaven...Ghassan
Mauricio Castano (cousin from USA)
From: New Jersey, USA
Comments: EVEN THOUGH I ONLY MET CATALINA ONCE, WHEN I HEARD THE NEWS IT SEEMED
LIKE I HAD KNOWN HER ALL MY LIFE. HER PERSONALITY, BEAUTY, AND TALENT ALWAYS
BROUGHT HAPPINESS AND PRIDE TO THE CASTANO FAMILY. WE WILL ALWAYS MISS YOU,
CATALINA!
SAMSUNG STAFF
For Our Shining Star
From: Lebanon
Comments: As you have been our beautiful shining Star that gave Samsung Motors a unique attaraction; We want
you to know that you will always be our only special Image! Samsung Motors Staff
La Revue Du Liban
La Revue du Liban
From: Lebanon
Comments: "Le livre de la vie est un livre suprême, Que l'on ne peut ouvrir et relire à son choix. on voudrait revenir
à la page où l'on aime Et la page où l'on meurt est déjà sous nos doigts." Lamartine